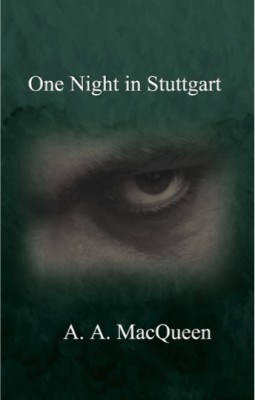 $11.95 Print; $3.99 ebook
Jack Davenport and Reno Buchanan were the best of friends as young men enjoying the social scene of Atlanta in the 1970s. But times and people change. A trip to a hunting lodge in Stuttgart, Arkansas seemed like a great way for the two old friends to catch up. Neither of them would have chosen what happened "one night in Stuttgart."
Overview
Sometimes we feel like we know our friends very well only to find that we don't.  In "One Night in Stuttgart," our old friend Jack Davenport spends some time rekindling his close friendship with his old pal, Reno Buchanan.  Mac has asked Reno to ride along with him to a duck hunting lodge in Stuttgart, Arkansas.   We meet a wonderful character named Molly Stanton.  Molly has quite a life story of her own and Jack is looking forward to spending time with both of these old friends.  The Canvasback Lodge, Jack's destination will be the scene of what happens that "one night in Arkansas."
The story is about relationships.  It is about friendships and how they may change over the years.  It is about people, the goodness of some, and the badness of others.  And, with most of my yarns, it is about justice.  When foks do bad things, folks like Jack Davenport and Harry Kincaid just can't let it go unanswered.
Disclosure of Material Connection: Some of the links in the page above are "affiliate links." This means if you click on the link and purchase the item, I will receive an affiliate commission. I am disclosing this in accordance with the Federal Trade Commission's
16 CFR, Part 255
: "Guides Concerning the Use of Endorsements and Testimonials in Advertising."