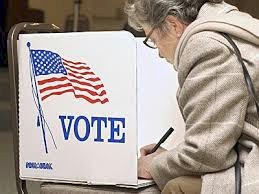 Yesterday, May 20th, was voting day here in Georgia with primary elections to decide November general election candidates up for grabs.  One of the races somewhat farther from the spotlight was for the seat in the Georgia State Senate, District 9, my district.  The incumbent of that office is Don Balfour, one who has held that office for 22 years.  Mr. Balfour faced and was cleared of some ethics charges recently, but that's not the gist of my post.  The voters thought it was time for some new blood and Mr. Balfour lost to both his challengers, Mike Beaudreau and P.K. Martin.  Those two will face each other in a runoff in July to determine who will run in the general election.  P.K. Martin knocked on my door several weeks ago and we had a nice little chat.  I liked him and had all but decided to give him my vote when I got a campaign mailer from Beaudreau.
As a result of Georgia's latest redistricting, my small community was moved from Georgia's 7th Congressional District to the 4th.  This meant that my voice in Washington is now that of Hank "Guam might tip over" Johnson.  The gist of Mike Beaudreau's campaign mailer was that Mr. Balfour was instrumental in that redistricting.  I don't know whether he was or not.  What impresses me about Beaudreau is that, in this age of walking on eggshells anywhere race is concerned, he is willing to assert that Hank Johnson's values may not be representative of mine.  Indeed.
Here is the front of Beaudreau's mailer: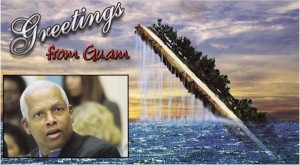 Hank Johnson is an embarrassment and his race has nothing to do with it.  In a Congressional hearing regarding the placement of additional military personnel on the island of Guam, he voiced his concern that such placement may cause the island to "tip over and capsize."  Yeah, really.  This display of brilliance took place before the House Armed Services Committee in March of 2010.  Mr. Johnson has been re-elected since and will most likely win again in the general election this November.  The 4th Congressional District, like the 5th represented by John Lewis is predominately black (59.04%).  A white person has about as much chance of winning an election there as a fish riding a bicycle.
For more of Mr. Johnson's unmatched oratory, enjoy his "Imagine a World Without Balloons" speech, or his "Apology for Using the 'M Word.'"  Notice the throngs of people who have packed into the House Chamber to hear him.
I appreciate Mike Beaudreau's recognizing that Hank's voice probably doesn't reflect my values.  Perhaps his voice in the Georgia Senate will.