My pal, Tom Clark, a patriotic American, called the other day and invited me to accompany him into downtown Atlanta this morning to witness a Naturalization Ceremony.  This, as you know, is the ceremony in which strangers from foreign lands become bona fide, certified, American citizens.  These are the folks who came to our country through the front door.  They stood in line, waited their turn and fulfilled all the requirements for citizenship.  I accepted his invitation, albeit with luke warm enthusiasm.  I'm closing in on the final chapters of a novel that I've been working on for over a year and thought the time might be better spent with it.
Boy, was I wrong.  What I witnessed today is something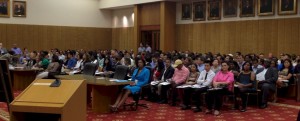 that every American should see.  My friend aptly said, "We really don't know that we hit the lottery just from having been born here."  And he's quite right.  Today, approximately one hundred and twenty five newly minted U. S. citizens left that courtroom on the twenty-third floor. some with tears, all with smiles… and all with button-popping pride, being able to say, "Now I am an American."  By our count, folks from fifty-five countries raised their right hands and swore allegiance.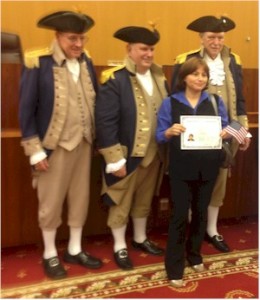 The Naturalization Ceremony is held every other month, or so, in a courtroom downtown in the Richard B. Russell Federal Building, and elsewhere around the State.  It is held in federal districts in all of these United States, as needed.    Today's ceremony was presided over by a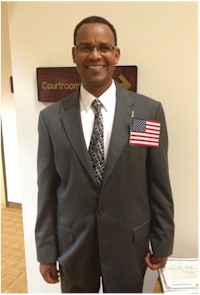 federal judge and included the presentation of the colors by a contingent from the Sons of the American Revolution.  Each new citizen stood, gave their name and country of orgin, then as a group, took the oath.  There was a short address by a speaker, then everyone, all of us, sang "God Bless America."  Okay, I'll admit to tears at that point.  Then, a representative from the Daughters of the American Revolution said a few words, ending with, "Welcome home, fellow Americans."
What a great way to spend Flag Day.  Welcome home, indeed.